Our modern Des Moines headquarters houses our Screen Printing and Embroidery Departments in addition to our sales and administrative offices and catalog showroom. We are located at 3500 109th Street, Des Moines, Iowa 50322. If you're in the area, stop by! You can view or print this map to get directions to our headquarters.



At Competitive Edge Advertising Specialty Mfg. Co., our mission statement is in our name. We provide your company or organization innovative products, "125% Guaranteed" low prices, knowledgeable customer service, and "Fast" efficient delivery.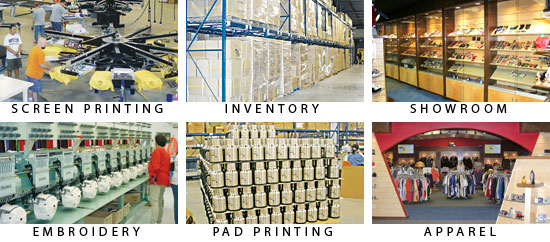 Unlike the majority of companies in the advertising specialty industry, we don't just distribute the products that other manufacturers make. WE MANUFACTURE THE MAJORITY OF WHAT WE SELL and you can rely on us to get "Factory to You" pricing on your promotional item purchases. In addition, Competitive Edge is a major importer of Specialty Products from Asia and Europe . . . thus, "When we say you're buying direct, we mean it!"
You will find through our commitment to excellence and attention to detail, that we're on the cutting Edge in our industry. Custom catalog programs, custom product manufacturing, complete import/export services, innovative packaging programs are just a few of the many ways in which we distinguish ourselves.
As a full service company, Competitive Edge specializes in:
BIG DISCOUNTS with 10% to 40% off retail everyday!
MANUFACTURING "ON SITE" for printing, embroidery, or screening of your order.
GREAT IDEAS from the USA and around the World.
INNOVATIVE NEW IDEAS to excite and thank your customers.
QUALITY PRODUCTS to carry your message.
OUTSTANDING VALUE with 125% Low Price Guarantee!
QUICK DELIVERY with many items available in 5 days or less.
INTERNET/FAX SERVICES to speed up all phases of ordering.
COMPUTERIZED PRODUCT RESEARCH for those "Let me describe it to you items!"
IN-HOUSE COMPUTERIZED ART DEPARTMENT for immediate turnaround on your order.
There is no limit to the ways in which Competitive Edge can help you deliver your marketing message. We've got items for convention give-a-ways, business gifts, direct mail campaign items, fund raising, political campaigns, special events, company promotions, and more! Let us assist you with our special expertise in corporate wearable programs, employee programs, "Company Stores", or "Fulfillment" programs.
Thank you for visiting the Competitive Edge Web Page and allowing us the opportunity to work with you . . . we will make it a rewarding experience.
Competitive Edge Inc.